Feed Through Type EMI Filter Arrays DIPL12 Series
Features
---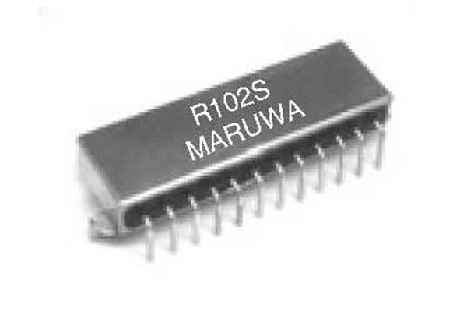 DIPL12 series are EMI filters of high performance that have 12 channels of a low-pass filter in a metal case, consisting of feed through capacitors and multilayer suppressors with high withstanding voltage and excellent high frequency characteristics.
Using feed through capacitors, it offers great insertion loss in up to high frequency over 1GHz.

Since current channels have no internal connection, the EMI filters achieve large allowable current, and can be used for DC lines up to 7A.

Using feed through capacitors with withstanding voltage DC 1kV min., it can be safely used for power lines to signal lines.

Circuit board spaces can be saved since L package covers 12 channels for EMI control.

Capacitance value can be changed for every channel. Also, a specific signal line can be changed to a ground terminal. (Customizable)

Internal feed through capacitor and multilayer suppressor are independent in each line to eliminate cross talk.

It has high reliability under severe operating circumstances due to feed through capacitors with excellent heat cycle resistance, and silicon resin shielding.

RoHS Compliant.
Applications
---
Industrial electronic equipment, automotive electronics,computers and peripheral equipment.
Rating
---
Rated voltage : DC250V (between input terminal and ground)

Withstanding voltage : DC750V·1~5 sec (between input terminal and ground)

Rated current : 7A DC (between input and output terminals)

DC resistance : under 5m (between input and output terminals)

Operating temp.range : –55~+125℃ (characteristics of X7R) –25~+85℃ (characteristics of SL,YN,YE,YF)

Storage temp.range : –55~+125℃
Standard part list
---
| Part Number | Capacitance | Characteristics | Marking |
| --- | --- | --- | --- |
| DIPL12-S220M-S | 22pF±20% | SL | S220M |
| DIPL12-Y101M-S | 100pF±20% | YN | Y101M |
| DIPL12-E471M-S | 470pF±20% | YE | E471M |
| DIPL12-E102P-S | 1000pF+100,-0% | YE | E102P |
| DIPL12-R102S-S | 1000pF+50,-20% | X7R | R102S |
| DIPL12-F202P-S | 2000pF+100,-0% | YF | F202P |
Equivalent circuit
---
A filter array contains 12 channels of the equivalent circuit below.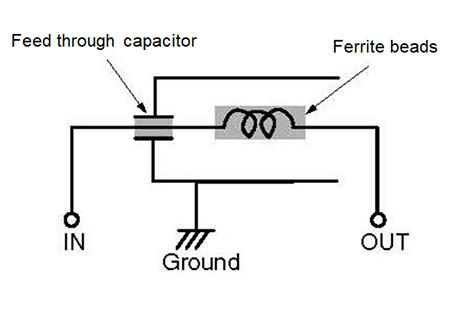 Recommended P.C.B. pattern diagram
---
Please take ground pattern as largely as possible.
(The parts may not perform well depending on how the ground is taken.)

Insertion loss (Reference)
---
Example of mounting
---
Please connect ground terminals to a stabilized ground with low impedance to maximize the performance of DIPL12.

Product Inquiries