Our company name "MARUWA" contains the meaning "Everyone combining efforts in harmony". As this name implies, a corporate ethos of valuing ties between people has been firmly rooted in MARUWA since its inception, and this is the point of departure for our CSR activities. In the future as before, we will fulfill our social responsibilities based on our CSR policy, in order to be an enterprise that is trusted by all of the people around us.
CSR Policy
Since its founding as a company in 1973, MARUWA has been honing unique technological capabilities in fine ceramics mass-production technology. Today, each and every one of its members diligently internalizes the corporate philosophy and strives for manufacturing that is considerate to the natural environment. At the same time, they are fully aware of the company's social responsibility and adhere to compliance practices.
Moreover, MARUWA Group considers corporate activities to have an interactive relationship with society, and aims, as its vision for the future, to achieve things that might seem mutually exclusive – "Environmental improvement alongside cost reduction", "Profit gains for the company alongside return of profits to society", and "Happiness of the corporation alongside happiness of members and stockholders".
Eco-friendly product manufacturing, contributions to local communities, enhancement of customer satisfaction – we believe that these and other such things are important duties of the MARUWA group, and further that they constitute the significance of CSR activities.
Corporate Citizenship
Corporate Ethical Standard was set for every member of MARUWA Group to perform duties in good face based on common sense in society.
MARUWA Corporate Ethical Standard
We shall act with integrity both as an organization and individual to exercise total power.

We shall observe all relevant laws and social ethics, and engage in corporate activities in full awareness of corporate ethics.

We shall come to a showdown firmly with an antisocial power and organization, which threaten order and security for civil society.

We shall respect the personality of each employee, and make an effort to keep our working environment safe.

We shall make an effort for fair disclosure of information and devote ourselves to transparent management.

We shall respect the rights of our stakeholders.

We shall focus on environmental consciousness to fulfill our social responsibility.

We shall contribute to local societies as good corporate citizens
Stakeholder Engagement
MARUWA Group's business activities are carried out amid engagement with various stakeholders. We will fulfill our responsibilities to each of these stakeholders.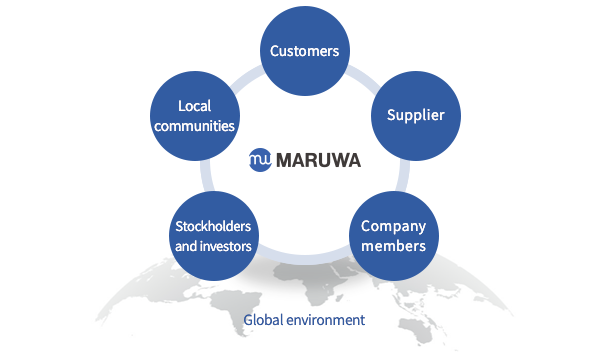 Customers
---
We aim to enhance customer satisfaction by providing a stable supply of products that have superior features and quality. Also, assigning top priority to product safety, we work to appropriately disclose information concerning safety and carry out earnest responses and support with regard to customers' wishes.
Local communities
---
We respect the culture and customs of the society and local communities in each country, carrying out social contribution activities and support activities for culture and the arts. We also actively carry out global environment preservation activities via our business operations.
Stockholders and investors
---
Working to maintain and raise our corporate value, we aim to return profits properly to all of our stockholders and investors. We also disclose timely and appropriate information in fulfillment of accountability.
Suppliers
---
We screen suppliers according to fair and rational criteria. Valuing mutual relationships of trust with our suppliers and reciprocally exchanging information with them, we aim to mutually prosper.
Company members
---
We assure workplace environments that are pleasant to work in by giving due consideration to labor safety and sanitation and to health. We also respect human rights and diversity, supporting each and every company member so that they can develop their capabilities to the maximum.
Global environment
---
We engage actively in global environment preservation activities for the realization of a sustainable society. We are moving ahead with corporate activities that are harmonized with the global environment – such as reduction of wastes and achievement of zero emissions.