Aluminum Nitride (AlN) Components
Features
---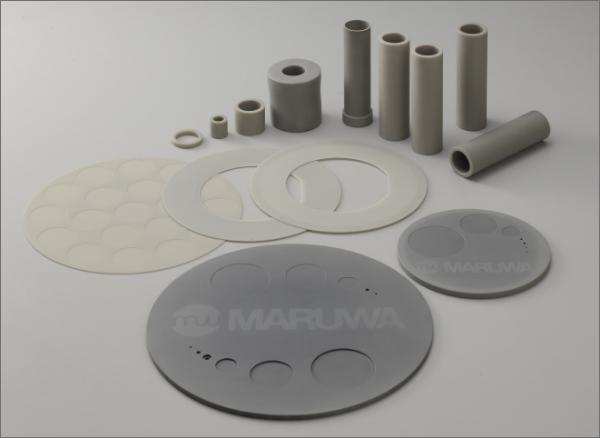 With high thermal conductivity, high wear and corrosion resistance, Aluminum Nitride (AlN) is the most ideal material for the semiconductor and medical industries. Typical applications include: heaters, electrostatic chucks, susceptors, clamp rings, cover plates and MRI equipment. Based on a depth of material engineering and development, MARUWA offers a wide range of technical capabilities and dependable mass-production capacity to meet customer's requirements in the most advanced fields of semiconductor and medical applications.
High thermal conductivity as high as metallic aluminum,7 times higher than aluminum oxide (Al2O3)

Similar coefficient of thermal expansion to that of silicon (Si)

High electric insulation

Highly resistant to plasma under fluorine-based gas atmosphere

Highly dense and fine-grained structure

A variety of materials suitable for different purposes(High thermal conductivity type/High purity type)

Sizes suitable for semiconductor manufacturing equipment
Applications
---
Semiconductor manufacturing equipment (heaters, electrostatic chucks, susceptors, clamps rings, cover plates) and medical equipment
Material properties
---
Item
Material
AlN
HAN-170
HAN-90
Density
g/㎤
3.3
3.2
Mechanical Characteristic
Flexual Strength
MPa
>350
>320
Young's Modulus
GPa
320
320
Thermal Characteristic
Specific Heat at RT
J/(㎏・K)
740
730
Thermal Expansion
~800°C
10-6/K
5
5
Thermal Conductivity
W/(m・K)
170
90
Electrical Characteristic
Dielectric Constant
1MHz
-
9
9
Dielectric Loss
1MHz
10-4
5
4
Volume Resistivity
25°C
Ω・㎝
>1014
>1012
Dielectric Breakdown Voltage
㎸/㎜
>15
>15
Application
Heater,Heatsink
Susceptor,Ring
Standard size
---
φ180~380mm × 1~10mmt  (φ550 will be available soon)
※Custom sizes are also available.
Product Inquiries