Aluminum Nitride (AlN) Substrates
Features
---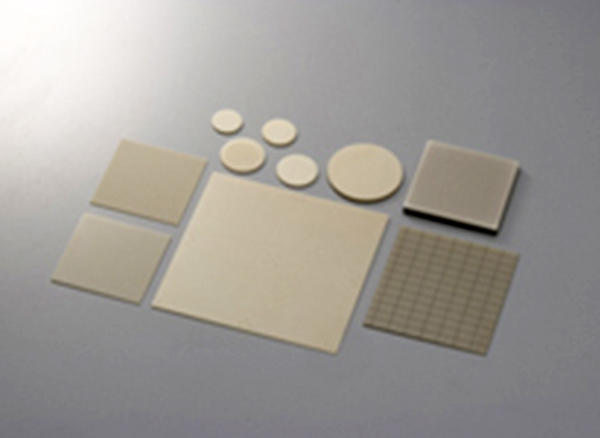 MARUWA has started to produce Aluminum Nitride (AlN) substrates since 1985 and has developed its performance.
With both extremely high thermal conductivity (170-230W/mK) and insulating properties. MARUWA's AlN substrate can be the best solution in electronics applications where strict conditions are required, such as power modules (MOSFET, IGBT), LED packages for cooling and protecting circuits, packages and modules.
High thermal conductivity (170-230W/mK), up to 9.5 times than that of Alumina.

Similar coefficient of thermal expansion to that of silicon (Si). This helps to achieve high reliability of Si chip and thermal heat cycling.

Higher electric insulation, and Smaller dielectric constant.

Higher mechanical strength (450MPa).

Superior corrosion resistance against molten metal.

Very high purity, no toxicity.
Applications
---
Heat dissipation substrate, LED package, Power module, Wafer bonding, Power resistor.
*Various metalized processing is available (Thin film, Thick film, DBC, AMB, DPC, etc.).
Characteristic Values
---
Condition
Unit
AlN
AN-170
AN-200
AN-230
Material
-
-
AlN
AlN
AlN
Color
-
-
Gray
Gray
Beige
Bulk density
-
g/㎤
3.30
3.30
3.30
Surface roughness Ra
-
µm
0.2
0.3
0.3
Reflectivity
0.3-0.4mmt
%
35
-
-
0.8-1.0mmt
25
-
-
Mechanical
Bending strength
3-point method
MPa
450
400
350
Modulus of elasticity
-
GPa
320
-
-
Vickers hardness
-
GPa
11
11
11
Fracture toughness
IF method
MPa・√m
3.0
2.6
2.4
Thermal
Coefficient of thermal expansion
40-400°C
10-6/K
4.6
4.6
4.6
40-800°C
5.2
5.2
5.2
Thermal conductivity
25°C
W/(m・K)
180
200
230
300°C
120
130
145
Specific heat
25°C
J/(㎏・K)
720
720
720
Electrical
Dielectric constant
1MHz
-
8.5
8.5
8.5
Dielectric loss factor
1MHz
10-3
0.3
0.3
0.3
Volume resistivity
25°C
Ω・㎝
>1014
>1014
>1013
Breakdown strength
DC
㎸/㎜
>15
>15
>15
General Dimension
---
Item
Unit
Type
AN-170
AN-200
AN-230
Dimension
inch(max)
5.5"×7.5"
5.5"×7.5"
5.0"×7.0"
Tolerance
±1% NLT:±0.1㎜
±1% NLT:±0.1㎜
±1% NLT:±0.1㎜
Thickness
㎜
0.25~1.5
0.25~1.5
0.25~1.0
Tolerance
±10% NLT:±0.04㎜
±10% NLT:±0.04㎜
±10% NLT:±0.04㎜
Through hole
㎜
Φ0.2~
Φ0.2~
Φ0.2~
Tolerance
±0.05㎜
±0.05㎜
±0.05㎜
Warpage
㎜
0.002/㎜
0.002/㎜
0.002/㎜
Processing
---
Mechanical Processing

Polishing / Lapping

Metalization
Inquiries about technical consultation